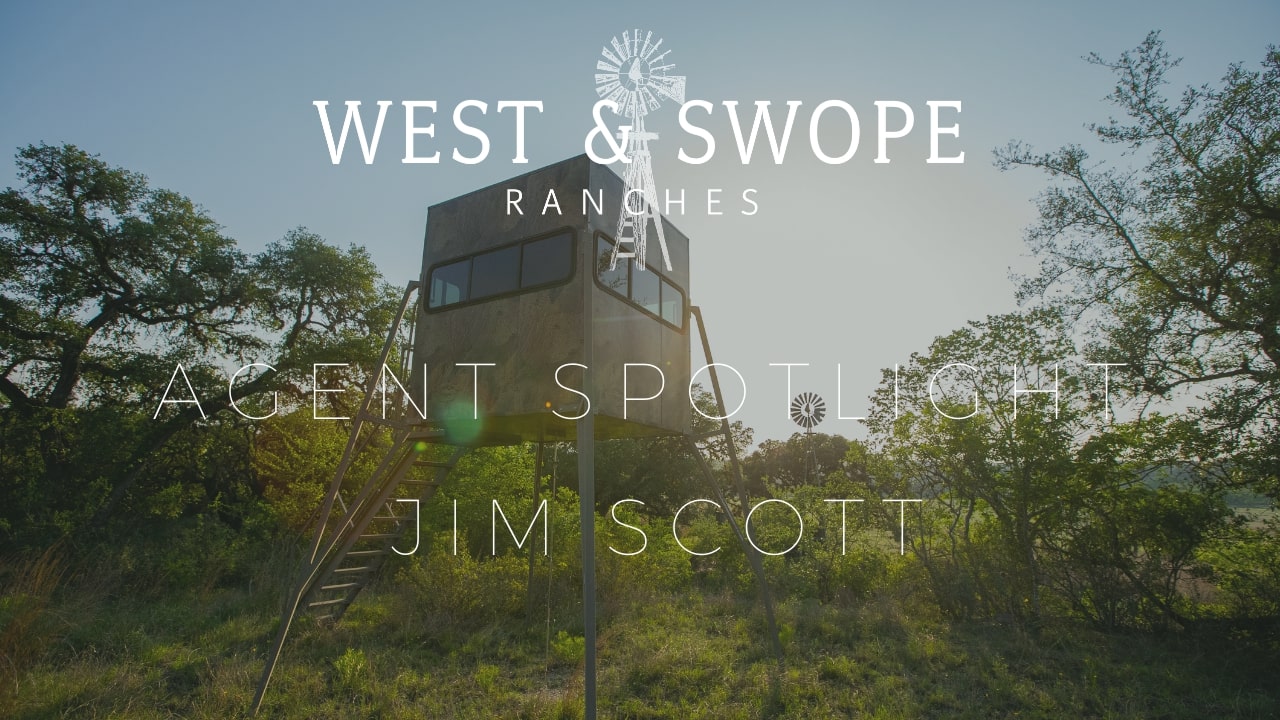 Where do you live?
San Antonio, Texas
Where are you from?
Austin, Texas
What drew you to ranch real estate?
Though I grew up in the city, I spent virtually all my time at my family's commercial cattle operation east of Austin. Graduation from the University of Texas lead me into the international raw cotton merchandising business wholesaling cotton to domestic US and foreign yarn spinning mills. After 35 years, I operated a real estate business in Mexico. As turmoil was increasing there, I moved back to Texas and felt ranch real estate might be ideal to remain in "ag" while using the same skills I had acquired through the years in marketing, communications, and ranching.
What are the three most important things to look for when looking for an agent to represent you?
Honesty, Communication, Experience
What is the most profound lesson you have learned from spending time on ranches?
Listening to your Buyers. Listening to your Sellers. I ask my Buyers to imagine their ideal property, what they "see" as their perfect place. Budget, Recreation, Livestock, Horses, Farming? Water, Fencing, Trees, Pasture, Home(s), Barn(s), Irrigation, Stock Ponds? For my Sellers, I listen to his goals and what he wants to accomplish. I explain the buying and selling transaction procedure, advise on general market information, provide comparable sales in the marketplace, assist in the disclosure of the property condition, and suggestions on preparing the property for sale.
If you could give in one sentence, a piece of advice about how to live life, what would that be?
I wake up every morning with one wish before any other; to offer a kind word to a stranger, to put a smile on someone's face and take a moment to acknowledge and engage them.
Describe your perfect workday.
I love everything about my job. I love being in the outdoors, have traveled in and thru every region of Texas, have visited some of the most beautiful ranches in Texas. I love every aspect of the business, from doing back-office work, doing my own property write-ups, photography, and mapping. Most of all, I love being on the properties of my clients.
What is your most memorable deal to date?
I was on a team to list one of the largest ranches in Central Texas. One of the largest construction companies in the state was representing the owner's estate. We went through several scrutinizing interviews with their top management and were successful in obtaining the listing. I composed all the marketing materials, photography, and maps of the ranch, and showed the ranch. We were successful in selling the ranch to an out of state entity. It was the thrill of a lifetime.
When looking for a brokerage, what drew you to West & Swope Ranches?
I knew of Mitch in the ranch real estate business. He had a stellar reputation and was well known for his business acumen, experience, honesty, and all-round Christian values. And Louie is one of the most impressive, dynamic, young men I have met. He is way beyond his years in wisdom, maturity, and knowledge of the business.
When you aren't working your business, where can you be found?
I love technology and learning new things. I love to travel and see new places and feel like I have been on every Farm to Market Road in Texas! When I'm in the mountains of Montana, I would love to settle there. When I'm on the Gulf Coast, there's no place better. And San Antonio is midway between them… well, sort of!
Who is someone who has had a profound impact in your life or in your business?
I have had the privilege of working with one of the first pioneers in the ranch real estate business, one of the "founders," so to speak. I learned the business under his tutelage and have revered his presence to this day.
What, or where, would be your dream ranch?
I was born and reared in Texas. 'nuff said.